Welcome to CIA
Chinese New Year Celebration
The Center for International Affairs, SUT took 30 international lecturers and students from China to participate in marching in a parade to celebrate Chinese New Year in Nakhon Ratchasima on Wednesday 30 January 2014, at 4.00 P.M.
For this year, the Chinese new year celebration parade began moving at Boon Temple and ended at Thao Suranaree monument where the main celebration took place. The objective of the attendance is to give them a great opportunity to celebrate and experience Chinese New Year in Thailand as celebration in their home country. Photos
SUT attended AUAP Meeting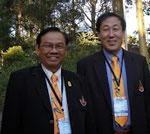 On 6-7 December 2013, Prof. Dr. Prasart Suebka, Rector of Suranaree University of Technology, Prof.Dr. Yupeng Yan, Director Center for International Affairs and

Asst. Prof.

Dr.Sunitiya Thuannadee, Deputy Director of The Center for Cooperative Education and Career Development attended the meeting "The 13th AUAP Learning and Sharing Forum 2013." join as a member, held at

University of Newcastle

, Australia. Photos.
Students from ASEAN gave education information
$1
In November 6, 2013, Prof. Dr. Yupeng Yang, Director of Center of International Affair, invited graduate students from ASEAN to CIA, in order to discuss and gather information of education systems in each ASEAN country. The objective of this performance is to manage collected information which will be benefits to the university and CIA in the future. :: Photos ::