Welcome to CIA
SUT students participated in Multicultural Camp
Between 23-27 January 2014, Mr. Pongsakorn Prateepsathaponkun, General Administrative Officer, Center for International Affairs, took 3 SUT international students, Thao Quoc Tran and Miss Tham my Duong, students in school of foreign language, along with Mr. Hoy Menglim, a student in school of civil engineering to participate in multicultural Social Exchange Camp 2014 which was held by Office of Arts and Culture, Nakhon Ratchasima Rajabhat University.
For this camp, there were 60 participants who come from different countries such as, Cambodia, Vietnam, Philippines, China, India, Russia, United State of America and Brunei. The attendees had learned and understood about "Living together with the diversity" during the camp through variety of activities such as, international cooking, dance, games and sports etc. Photos
Chinese New Year Celebration
The Center for International Affairs, SUT took 30 international lecturers and students from China to participate in marching in a parade to celebrate Chinese New Year in Nakhon Ratchasima on Wednesday 30 January 2014, at 4.00 P.M.
For this year, the Chinese new year celebration parade began moving at Boon Temple and ended at Thao Suranaree monument where the main celebration took place. The objective of the attendance is to give them a great opportunity to celebrate and experience Chinese New Year in Thailand as celebration in their home country. Photos
SUT attended AUAP Meeting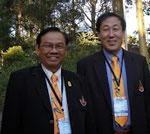 On 6-7 December 2013, Prof. Dr. Prasart Suebka, Rector of Suranaree University of Technology, Prof.Dr. Yupeng Yan, Director Center for International Affairs and

Asst. Prof.

Dr.Sunitiya Thuannadee, Deputy Director of The Center for Cooperative Education and Career Development attended the meeting "The 13th AUAP Learning and Sharing Forum 2013." join as a member, held at

University of Newcastle

, Australia. Photos.
Students from ASEAN gave education information
$1
In November 6, 2013, Prof. Dr. Yupeng Yang, Director of Center of International Affair, invited graduate students from ASEAN to CIA, in order to discuss and gather information of education systems in each ASEAN country. The objective of this performance is to manage collected information which will be benefits to the university and CIA in the future. :: Photos ::