Welcome to CIA
ASEAN Cultural Camp to Lamphun and Chiang Mai
Center for International Affairs held CIA: ASEAN Cultural Camp to Lamphun and Chiang Mai Province for ASEAN students, International students, and Thai students to Lanna culture in order to create a learning understanding and exchange the experiences of living together in a multicultural society happily. Also, learn languages from others participants Through the journey of learning the local culture of northern Thailand Thai Lanna in Lamphun - Chiang Mai during 22-24 May 2015. Total number of participants is 59 consist of 8 students from
Administrators from HUST visits and sign MOU with SUT
Güncel sikis sitelerinden olan zrporno.com ile turk porno izlemek oldukca kolay ve zahmetsizdir. escort bayan jigolo porno izle canlı mac izle yabancı film izle hd porno izle Basariya giden yol para avcisi filminde soylendigi gibi hergun duzenli masturbasyon yapmaktadir. Bunun icin kullanabileceginiz bir site olan www.2bu.org sizlere brazzers pornolarini bedava izletme imkani sunuyor. Brazzers pornolari sizin icin yetmiyorsa genel icerikli site olan porno film sikis izle sitesinide ziyaret edebilirsiniz. turk porno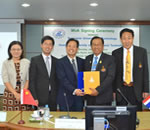 Professor Dr. Prasart Suebka, Rector and Administrator Welcomed Mr. Yu Hailin, director of the international exchange and Management of Huazhong University of Science and Technology (HUST), China. On the occasion of the visit and signed a partnership with Suranaree University of Technology. Signing scheduled to begin at 13:30 am., At the Administration Building Conference Proceedings on January 7, 2015 ::: Photos :::
Read more: Administrators from HUST visits and sign MOU with SUT
SUT mini-International Night
On December 30, 2014Center for International Affairs held the Activities "SUT Mini-International Night"at Surasammanakhan with the objective to strengthen the international atmosphere on campus and to build good relationships between foreigner students and staff. Also creates warmth to students who did not return home. And is organized to welcome the New Year 2015, which had exchanged the New Year gifts. Karaoke singing, dancing, and enjoyed variety of food. ::: Photos :::
SUT Signed MOU with 3 Universities in ASEAN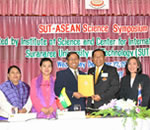 As of December 17, 2014, School of Science. Together with the Center for International Affairs in the activities of SUT-ASEAN Science Symposium, comprising
1. The signing of the MOU between Suranaree University of Technology and the University of Mandalay, Myanmar Ho Chi Minh City University of Science and VNU-Hanoi University of Science from Vietnam
2.
Lecture by institutions administrators from ASEAN countriesn in topic of policies Cooperation in education and research within ASEAN and Asia
3.

Lecture by experts from research institutions. To open up opportunities for cooperation in education and research collaboration between Institutions that participated in this meeting (more than 8 countries) at the
Thai Language for Daily Life Communication Course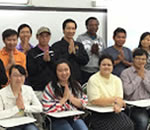 Center for International Affairs held "Thai Language for Daily Life Communication Course" Teaching Thai for international students by Dr. Jitpanus Suwannathep between 1st December 2014 – 10th February 2015 (40Hrs). In order to improve Thai language communication to international student to learn and to understand Thai culture Total number of registered student is 47 ::: Photos ::